Amazon are selling the Western Digital 2TB Green hard drive for $99.99. Saving $80 of the list price of $179.99.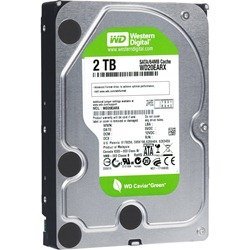 The WD 2TB 3.5" Green HDD (WD20EARX) is a SATA III, IntelliPower, 64 MB Cache Bulk/OEM Desktop Hard Drive with the following features:
IntelliSeek – Calculates optimum seek speeds to lower power consumption, noise, and vibration.
And caching algorithms designed to deliver both significant power savings and solid performance.
And offer best-in-class acoustics and operating temperature and 3rd generation SATA interface.
WD Caviar Green hard drives reduce power consumption by up to 40%.
IntelliPower – A fine-tuned balance of spin speed, transfer rate
You may purchase it for $99.99 from Amazon.
Share this WHS Article with Others: