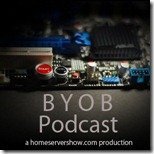 This weeks episode of the BYOB podcast is up.
And in this weeks episode for the build your own box enthusiasts:
"This weeks BYOB Podcast is joined this week by John Wills and John Zadjler. We'll discuss the Corsair 550D Case, Silex USB over IP, ASRock Z77 and Ivy Bridge 3570K, an Onkyo Receiver. John Wills new project and more Windows 8."
You can listen to episode 94 here.
Share this WHS Article with Others: