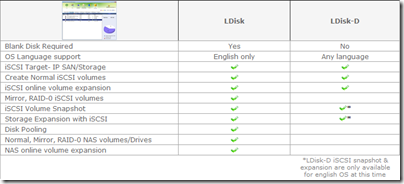 The add-in LDisk-D has been updated to version 3.0.0.5
This add-in adds iSCSI Target Storage/SAN capability to Windows Home Server-2011, Windows Storage Server-Essentials, and SBS-2011-Essentials. Using LDisk™ or LDisk-D, you can create a single appliance to provide all your storage and backup needs.
This latest release has licensing changes
More details on LDisk-D are available from InteliSAN.
Share this WHS Article with Others: