The Windows Server Essentials Team have just announced that Windows Server 2012 Essentials public beta is now available for download and testing from the following locations:
Available for download is the installation ISO at 4GB, the restore CD as well as the Windows Server SDK.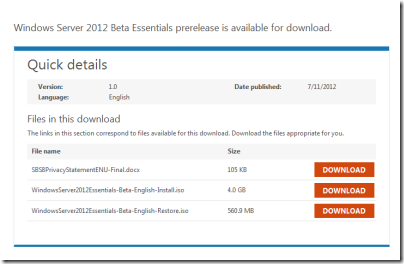 Don't forget that the team would like you to file any bugs which you may find as well as any feedback at the Connect website.
Further helpful information on Windows Server 2012 Essentials is available from:
Windows Server 2012 Beta Essentials (formerly Windows Small Business Server Essentials) is a flexible, affordable, and easy-to-use server solution designed and priced for small businesses with up to 25 uses and 50 devices that helps them reduce costs and be more productive. Windows Server 2012 Beta Essentials is an ideal first server, and it can also be used as the primary server in a multi-server environment for small businesses.

Windows Server 2012 Beta Essentials enables small businesses to protect, centralize, organize and access their applications and information from almost anywhere using virtually any device. Additionally, Essentials has the ability to grow as your business grows, providing an elastic solution that allows you to purchase and then perform an in-place conversion to Windows Server 2012 Standard if your business needs change over time.
System requirements
CPU: 64-bit 1.4 GHz single core or 1.3 GHz multi-core (minimum) to 3.1 GHz multi-core (recommended) or faster processor.
Memory: 2 (minimum) to 8 (recommended) GB RAM or more
Disk: 160G disk space
Client OS: Windows 7, Windows 8, Mac OS X version 10.5 to 10.7
Follow the instructions in the Technical Library and use the following product key: M4YNK-GV7CR-GPDCP-4KKJX-2YPP2.
Share this WHS Article with Others: