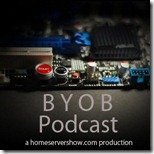 Its time for another episode of the BYOB podcast and in this weeks edition:
Special guests, Steve Dail (aka TimeKills) and Renny Phipps (aka Renny) join me for some tech talk.  We talk about their setups, hardware, networks as well as their thoughts on Windows 8 and Server 2012 Essentials.  We discuss Steve's new MSI GT60 laptop, and Renny's new Z77 I5-3550 system complete with Vertex 3.  Steve walks us through setting up a VPN in 2012 Essentials.
You can find episode 93 here.
Share this WHS Article with Others: