We are hoping like the rest of you that there will be another version of Windows Home Server and if that is the case then it will be based on Microsoft's next server operating system Windows Server 2012.
So if you would like to know more about this next server o/s then Microsoft are offering a free ebook entitled Introducing Windows Server 2012.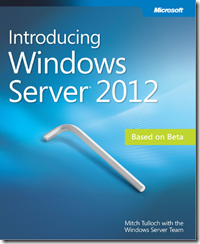 All five chapters span over 256 pages and cover subject matter such as continuous availability with cost and management efficiency a scalable and elastic web platform, access virtually anywhere from any device, full Windows experience and enhanced security and compliance.
The ebook is currently available in PDF format with EPUB and MOBI formats coming soon.
Share this WHS Article with Others: