The add-in ISO Mounter has had an update.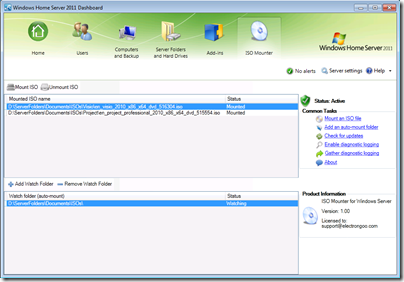 ISO Mounter is a software add-in for Microsoft Home and Business server which allows you to mount ISO files (DVD and CD images) stored on your server so they can be viewed directly through your servers folder share on all of your PC's and laptops.
Here's what's new in version 1.30
New Features:
Support for Blu-ray iso images (now you can stream Blu-ray movies from your WHS to your XBOX or other DLNA device)
Added a 15 day free trial
Updated user interface for German localization          
Enhancements:
Fixed issue where some iso images would not automatically remount after a server reboot
Updated the installer package to be friendlier with older versions of the Microsoft "C Run Time Library"
Minor bug fixes and enhancements
ISO Mounter is available for WHS (both v1 and 2011) and Small Business Server 2011 for $14.99.
More information plus a 15 day trial version are available from here.
Share this WHS Article with Others: