CloudBerry Backup for WHS v1, WHS 2011 and SBS 2011 has had an update.
The add-in automates data backup directly to Amazon S3, Windows Azure and a few other cloud storage providers
Version 2.9 comes with 5 few important enhancements:
1. Cost Estimates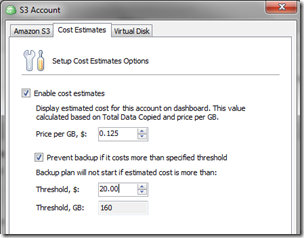 You can set up cost estimates per the storage account on the account configuration dialog. You can also setup the limit in GB and in $ that when reached will stop the backup.  The software will automatically calculate the costs based on the current storage price offered by the storage provider. Currently Amazon S3 charge 0.125/GB per month.  The software will also send an alert to the users when the storage is about to reach the limit.
http://blog.cloudberrylab.com/2012/06/controlling-storage-costs-with.html
2. Pre/post actions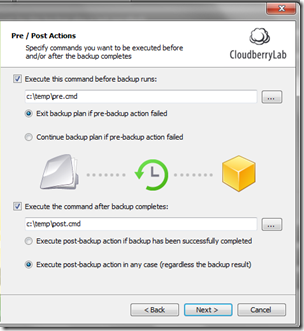 With the latest release you can configure Pre- and Post actions that will run before and after the actual backup is running. This feature will make it easier to back up applications such as SQL Server and Exchange. You can set up a Pre-action to back up SQL Server and then you can set up a POST action to clean up the SQL Server backup directory from the older backup files. 
http://blog.cloudberrylab.com/2012/06/how-to-set-up-pre-post-actions-with.html
3. Windows Event Log support
The latest version of CloudBerry Backup comes with an option to write Events on backup completion (success and failure ) to the Windows Event log.  This feature makes it easier to deploy CloudBerry Backup along with the popular monitoring and management systems such as Microsoft System Center Operations Manager (SCOM), HP OpenView, BMC Patrol, Quest Foglight and a few others that come with a capability to process Windows Event Log and apply certain common rules.
http://blog.cloudberrylab.com/2012/06/how-to-report-on-backup-status-to.html
4. Run missed backups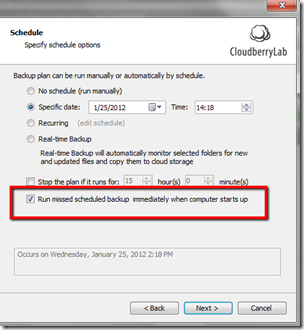 In the latest release we are introducing the option to restart the backups having missed their schedule. Typically this happens when the computer was turned off.  The new option allows to start missed backups as soon as computer starts or backup service starts.
http://blog.cloudberrylab.com/2012/06/how-to-restart-missed-backups-with.html
5. Prevent sleep mode if backup is running.
More details on CloudBerry Backup for WHS and SBS 2011 can be found here.
Share this WHS Article with Others: