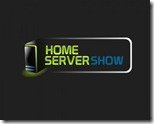 Your weekly dose of The Home Server Show podcast is available with episode 181 just being published:
"The Home Server Crew is back and we have a marathon for you. There was plenty to cover since we missed a week.  We have a lot of media related news and gadgets to talk about but the big topic is cloud services.  How many do you have? Use?  It was eye opening just trying to list all of the ones we use.  We hope you enjoy."
you can find episode 181 here.
Share this WHS Article with Others: