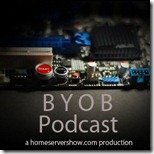 The latest edition of the BYOB podcast is up.
For all the "Build Your Own Box" enthusiasts, episode 86 has the following this week:
Short show this week, but we pack it full of hardware info. PCs on a Stick, AMD Trinity update, nVidia releases the GTX 670 Kepler GPU, Dirt cheap hi-res monitors? Server issues all around, Mike & Mike talk about their hard drive server issues…
You can find episode 86 here.
Share this WHS Article with Others: