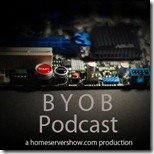 Episode 85 of the BYOB podcast is up:
"Special Guest Chris Barnes from the DMZ podcast thEndUsr joins us to discuss his systems. We'll also tackle nVidia's GTX690. Amazon plays me too with their cloud drive. Playon is told to move on. Welcome to Episode 85 of the BYOB Podcast."
You can find episode 85 here.
Share this WHS Article with Others: