To celebrate World backup Day, Code 42 the company behind CrashPlan are offering a free copy of "Take Control of CrashPlan Backups" to everyone buying a new CrashPlan+ or CrashPlan PRO subscription through to the end of Monday, April 2nd, 2012 (Central Daylight Time).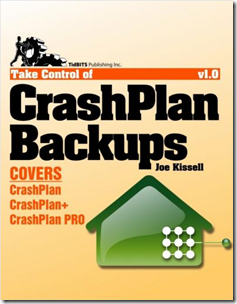 https://www.crashplan.com/consumer/store.vtl
You won't see any mention of the book in Code 42's cart, but shortly after the promotion ends, Code 42 will send you an email message with information about how to get the free eBook.
In "Take Control of CrashPlan Backups," Kissell helps readers devise an effective backup strategy for CrashPlan's unique capabilities, shows how to back up to multiple destinations and restore files from all of them, explains less-common tasks (such as switching to a new computer and seeding a hard drive locally before moving it to a friend's house for offsite backup), and walks readers through fine-tuning CrashPlan's many settings. All three consumer and small-business versions of CrashPlan – the free CrashPlan and the subscription-focused CrashPlan+ and CrashPlan PRO – are discussed, with relevant differences called out. (The book does not cover CrashPlan PROe, the enterprise version.)
For small businesses subscribing to the CrashPlan PRO service, Kissell documents how to manage users and computers via the service's Web-based interface, and for anyone backing up to CrashPlan Central or CrashPlan PRO Cloud, he describes how to use the CrashPlan Mobile app (for iOS, Android, and Windows Phone 7) to access backed-up files. Lastly, Joe provides troubleshooting tips in case things go wrong, and offers basic advice for backup needs outside CrashPlan's purview (like bootable duplicates).
Those who already have a CrashPlan subscription, or who want to give CrashPlan a try without signing up just yet, can buy the 138-age book by itself for $10 at:
http://www.takecontrolbooks.com/crashplan
Free sample with Table of Contents, Intro, Quick Start, and section starts.
Share this WHS Article with Others: