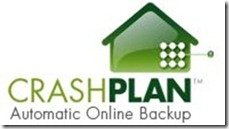 You probably know that we are fans of the online backup provider CrashPlan which we use here at MSWHS.com. Today the company announced version 3.2 of their CrashPlan and CrashPlan PRO software which allows you to now pause backups on certain networks, pause backups when your device battery is low and a Mac menu bar item which is also available for Windows users amongst other enhancements.
Here's the full details:
New Features / Enhancements
Automatically pause backups when you're running low on battery. This option allows you to conserve battery power when you're running low by not backing up. Backup resumes when battery power returns to a level you specify or when you are plugged back in.
Permission option when restoring files for another user. When you're restoring files, you have the option to restore file with the original user's file permissions or with the permissions belonging to the person who is restoring.
Automatically pause backups over selected networks or interfaces. You now have the option to automatically pause backups when you are on specific networks (e.g., Wi-Fi) or using specific interfaces.
Mac users: Menu bar icon and controls. There is now a CrashPlan menu bar for Mac users. Windows users have appreciated the easy access to basic CrashPlan features right from the menu bar. Now Mac users can enjoy this same convenient feature.
Version retention settings are now based on the highest priority backup set for a specific destination (not all ALL destinations.)
New file types are automatically excluded from backup. /var/log/lastlog, /var/log/btmp, /var/log/wtmp
PRO Version only – As part of the initial release process, the dashboard real-time statistics have been temporarily disabled. They will resume when the release process is finalized.
PRO version only – We improved out QoS setting (TCP packet TOS) so that it now supports custom DSCP.
Bug Fixes
Real-time file watcher now works properly on Linux installations with 3.x series kernels
Attaching an archive no longer adversely affects existing archive.
Setting up a backup to an attached drive no longer redirects to the local install path of CrashPlan.
More details on this release are available from here.
Share this WHS Article with Others: