CloudBerry Backup is celebrating World backup day by offering Cloud Backup for WHS with 50% off.
Do you know that March 31st was chosen to be a World Backup Day? To support the initiative started by a small group of people we want to spread the message that this is a great day to check and recheck your backup restores to see if they actually work.
If you are not backing up your Windows Home Server to the cloud then you should be as it adds another level of defense against data loss and this is the perfect time to set one up.
You can for a limited time get CloudBerry Backup for half-price which works out at only $14.99 for a WHS edition, but hurry as the offer ends April 7th.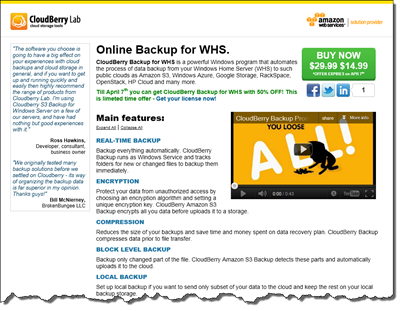 You can grab this deal here.
Share this WHS Article with Others: