The developer of the add-in Home Server SMART is after SSD owners to help test the upcoming 2012 version of the add-in which helps monitor your hard disks SMART results.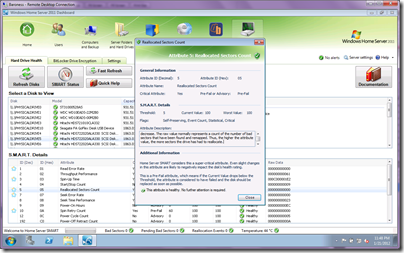 Older beta version of the add-in never reported SMART results for Solid State Disks (SSDs) correctly and you can help even if the SSD isn't installed in your home server:
If you are running a home server with WHS 2011 (or SBS 2011 Essentials/Storage Server 2008 R2 Essentials) and there's an SSD in it, you can use the Home Server SMART 2012 beta code that I hope to have available in the next week.

If you don't have an SSD in your server BUT you've got one in a desktop or laptop, I've created a Windows Forms-based UI that contains much of the Home Server SMART 2012 code, but can be run in 64-bit editions of Windows Vista and Windows 7. This "WindowSMART" application was built mainly for me to use as a means of testing code on the development PC before pushing it onto my home servers, but anybody can run it.

Ideally, at a bare minimum, I would at least like to ensure I get coverage of the most common/popular consumer class SSDs. Right now, that seems to be OCZ, Intel, Crucial, Patriot Memory, Kingston, Corsair and SanDisk. Sure, the goal is actually to ensure I properly cover the controllers — for instance, I have an OCZ Agility3 and an OCZ Octane — the former uses a SandForce controller; the latter, an Indilinx Everest. That's all I am able to test and validate, leaving all the other controllers out there untested by me. And that leads to bad software. So if anyone is willing to volunteer to run either the HSS 2012 beta or the WindowSMART test UI, your help will be greatly appreciated–and hopefully should require very, very little of your time. Mostly you would just need to run the tool, take screen caps and email them back to me.
If you are willing to volunteer then you can contact Matt on his website.
Share this WHS Article with Others: