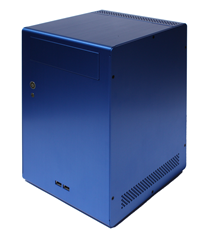 When you recognise the need for a home server, you have two main options; buy an OEM server from a major manufacturer or  build one yourself.
OEM servers are still a bit thin on the ground, and not everybody is confident building their own server; selecting, integrating and assembling the components can be a bit daunting to those who are not familiar with PC hardware.
Enter Humu Humu, a UK based company specialising in Windows Home Server 2011 servers, who have done the hard work for you and built a server ready to go as soon as you get it home. They offer a single server, in a variety of different colours, with some optional configurations available at the time of purchase.
Hardware

The Humu Humu server is based on a stylish Mini-ITX case measuring 193 W x 209 H x 291 D which can be order in Red, Silver, Black and Blue. Finished in brushed aluminium, the case has a strong and good quality feel.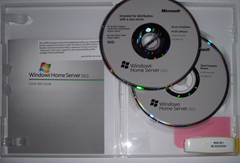 Along with the server, you also find a network cable, manuals and the recovery media In the box.
The server has no optical drives, so along with the DVD recovery media, Humu Humu have thoughtfully provided a USB flash drive containing the recovery software.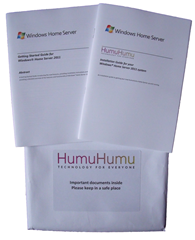 Humu Humu branded manuals are a nice touch, and representative of the thought and attention to detail that have gone into the whole package.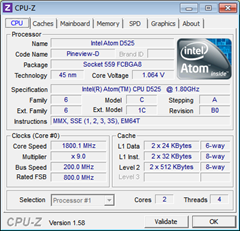 Internally the server is based around an Intel Atom D525 1.80GHz processor on a Mini-ITX motherboard, with 4GB of DDR3 memory and a single 2TB hard drive.
When ordering, the Humu Humu website gives the option of having the server shipped disk-less, with a single 2TB drive or an additional 2TB drive. With the additional drive option, the 2nd disk is mounted in the CD/DVD drive bay as this is the only space in the case to house it.
The hard disk(s) are bolted inside the server case and do not use caddies. This isn't a problem if your storage needs are  reasonably static, but it does mean that future capacity upgrades will need to be accomplished using external USB drives.
It is worth noting that in its single disk configuration, the review server had an eSATA socket available on the PCI slot bracket, which gets removed if purchased with two internal hard disks.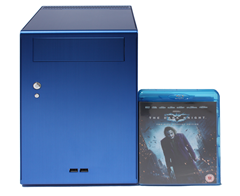 Up front things are nice and simple, with two USB 2.0 sockets along with power and reset button, and because this case has no caddies, the front is clean and uncluttered.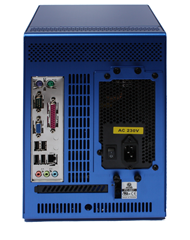 The rear takes a bit of a departure to regular OEM designed servers as a full range of regular PC connections are available. These include a parallel and serial port, PS2 mouse and keyboard, VGA, sound input/output alongside the more familiar server ports of four USB 2.0, Ethernet and eSATA.
A full height PCIe slot is available on the motherboard (filled by the eSATA bracket on the review model) should you wish to extend the capabilities of your server in that direction.
Having all these connections on the rear is no bad thing. The parallel port could be used to serve a printer; the serial port to interface to anything from home automation controllers to UPS devices. And clearly having VGA, keyboard and mouse ports available greatly simplifies reinstalling the operating system should that ever be necessary.
Backup Disk
The review server came with the optional 2TB Western Digital Elements external USB hard disk.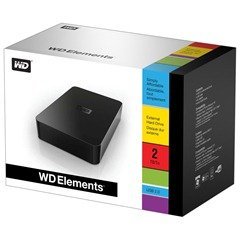 The intention is to use this disk as a server backup against the loss of any of the internal disks. More thoughtful attention to detail is found with the inclusion of four metallic stickers marked as USB Backup Disk 1 through 4 to help you keep track of your backup disks (should you use more than one).
Setup
As this server is able to accommodate a keyboard and monitor, it seemed sensible to connect them up. Upon power on, we are presented by a Humu Humu branded boot screen followed by the familiar WHS 2011 commissioning process. When complete, the server presents itself to the network and we are ready to roll.
In addition to regular WHS 2011, Humu Humu helpfully include a number of extra tools to manage the server over and above the ones supplied by Microsoft.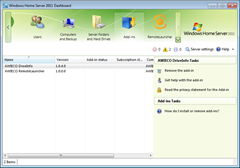 Launch the Dashboard and you will see a couple of extra Add-ins AWIECO DriveInfo and AWIECO RemoteLauncher.
AWIECO DriveInfo adds a new tab into the familiar Server Folders and Hard Drives section of the dashboard, which will display detailed information for each hard disks along with their partitions and share usage totals. I liked this add-in so much, I added it to my own server.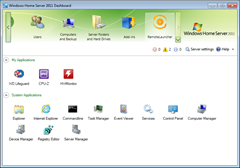 Another useful AWIECO add-in is RemoteLauncher, which gives the ability to run tools and applications that wouldn't normally be available on the Dashboard. Humu Humu have installed a couple of other tools which this add-in makes available.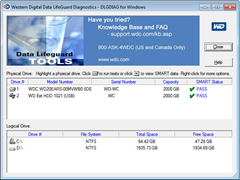 WD Lifeguard lets you see details about Western Digital drives attached to the server, allowing access to the SMART information in case of problems with a drive.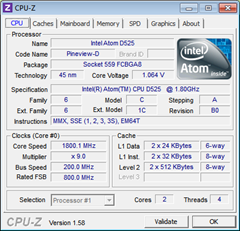 CPUz is also available from this screen, providing more hardware details.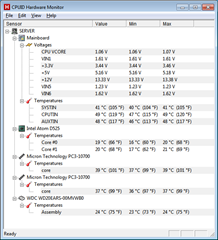 Finally HWMonitor gives even more information than anybody could possibly need about the internal working of the server, including processor core temperatures and motherboard voltages.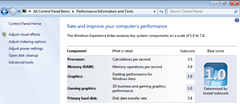 Just for interest, here are the Windows 7 benchmarks to illustrate the relative capabilities of the servers components. As is normal for this test, the overall score is let down by the graphics ability, which is perfectly fine for a server. If you ever want to use this hardware as a desktop PC, then you should add a graphics card.
In Use
In operation, the server is almost completely silent, helped by doing away with any separate case fans and cleverly using the power supply fan to move the air around. Couple this with the passively cooled Atom D525 processor, some very tidy internal cabling and you get a server that is very quiet indeed.
Power consumption in this single disk configuration server is a respectable 35 watts, which will raise a little if you opt for the extra internal disk.
Performance wise, the Humu Humu managed very nicely as a Windows Home Server.  The Intel Atom D525 is perfectly capable of delivering files and media to the clients, with things greatly helped by having plenty of memory available. The dashboard was quick to respond, backups were swift and reliable, with file serving fast and without undue delay.
This spec of server isn't ever going to completely happy doing a massive amount of HD conversions or anything that is very computationally intensive, but I don't believe that this is the target user for this server anyway.
Verdict
There is a lot to like about this server, the fit and finish of the case is great, and so is the range of colours. With WHS hardware still pretty hard to come by from major PC manufacturers, it is welcome to see an independent supplier willing to offer an alternative product to home consumers.
The Intel Atom delivers solid performance, and there is some great attention to detail in the package as a whole. If you are not confident building your own PC hardware, and are looking for a fuss-free and stylish server to protect your precious data, then you should have a look at the Humu Humu server.
Share this WHS Article with Others: