G Data Internet Security for Home Server protects both version 1 of Windows Home Server and WHS 2011 and up to 5 connected PCs.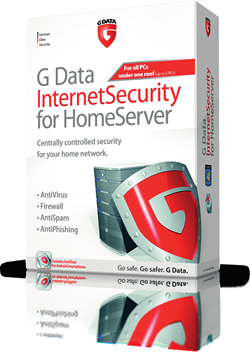 Protection is controlled centrally on the home server and is completely transparent on the PCs connected to it. The G Data Internet Security for Home Server includes a AntiVirus, Firewall, AntiSpam and AntiPhishing.
Here are the full details:
Award-winning technology

Award-winning virus detection thanks to two virus scanner modules
Secure protection against viruses, worms, rootkits, spyware, diallers, Trojans, adware and other riskware
Instant protection against new viruses: email and web-based CloudSecurity blocks infected emails or websites in real time
Integrated rootkit blocker / special module for discovering rootkits

G Data ManagementServer

Easy setup: installation, virus scan, updates, settings and reports are remotely controlled using the home server
Seamless integration into the Microsoft HomeServer 2011 console
Automatic distribution of updates in the network
Also central administration of clients that are not always connected to the home server (notebooks, netbooks, tablet PCs)

G Data AntiVirus and AntiSpam client

"Invisible" client protection in the background, including for computers that are not permanently connected to the home server.
Mail protection for Outlook, Outlook Express, Mozilla and POP3 / IMAP mail clients
CloudSecurity: Instant protection against new viruses and spam
Fully functional when working offline
If desired, independent settings and virus scans on the client are possible

G Data Firewall client

Remotely controlled installation and configuration
Simple administration using individual learnable access rules on the client
Monitors all incoming and outgoing connections
Blocks and reports DoS attacks, port scans and much more.
Four security levels or expert mode
Invisible stealth mode
G Data Internet Security for Home Server is priced at $99 (£99) and includes a one-year licence for 5 PCs with hourly virus signature updates, software updates and version upgrades.
More details are available from here.
Thanks to WeGotServed for the details.
Share this WHS Article with Others: