On their Building Windows 8 blog Microsoft's Steven Sinofsky and Rajeev Nagar, a group program manager on the Storage and File System team revealed details of Storage Spaces a feature in Windows 8 which seems like Drive Extender (DE) implemented in a different way or reincarnated so to speak.
Many of us have been using Windows Home Server Drive Extender and have been hoping for an approach architected more closely as part of NTFS and integrated with Windows more directly. In building the Windows 8 storage improvements, we set out to do just that and developed Storage Spaces…

…some of us have used (or are still using), the Windows Home Server Drive Extender technology which was deprecated. Storage Spaces is not intended to be a feature-by-feature replacement for that specialized solution, but it does deliver on many of its core requirements.
So for those of you not in the know, this is what Storage Spaces will allow:
Organization of physical disks into storage pools, which can be easily expanded by simply adding disks. These disks can be connected either through USB, SATA (Serial ATA), or SAS (Serial Attached SCSI). A storage pool can be composed of heterogeneous physical disks – different sized physical disks accessible via different storage interconnects.
Usage of virtual disks (also known as spaces), which behave just like physical disks for all purposes. However, spaces also have powerful new capabilities associated with them such as thin provisioning (more about that later), as well as resiliency to failures of underlying physical media.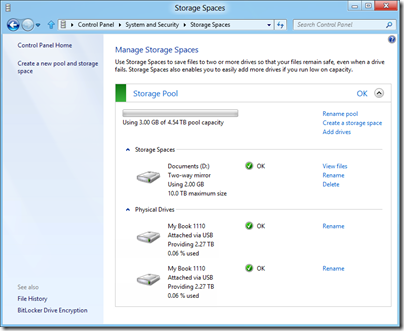 Data stored in the pool can also be automatically protected through mirroring across two or more disks as well as a parity attribute which adds redundancy information to your data, thereby enabling automatic data reconstruction in the event of physical disk failure.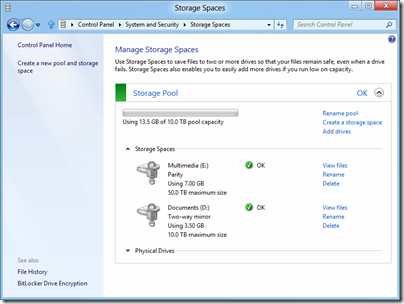 A new feature which was not available in DE is thin provisioning, which allows the creation of a pool that is larger than the physical storage available within the pool, a process of having just "the exact required amount" of server space at the time it is required. For example allowing previously allocated physical capacity to be reclaimed safely whenever files are deleted.
As what does this mean for the future of Windows Home Server now that its previously implemented DE technology will now be made available in Microsoft's next operating System? Who knows, but in the meantime I recommend you head over to the Building Windows 8 blog and have a read of this comprehensive post which explains  a lot more details on the Storage Spaces technology and also contains a 21 item FAQ – Recommended reading for the Windows Home Server enthusiast!
Share this WHS Article with Others: