The WHS Drobo Status add-in has just been updated to beta 2.
This plugin allows you to view how much space you have available on your Drobo from within WHS 2011 dashboard as well as the status of the drives.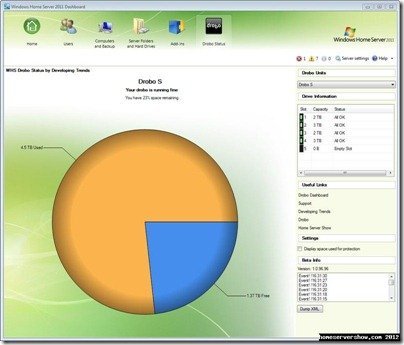 Beta 2 includes the following changes:
Added support for multiple Drobos
Now include the Drobo name and the Drobo type
Added a link to open the Drobo dashboard
Note, you must have the Drobo dashboard software installed on your Windows Home Server for the plugin to work (you probably have it installed already! If not you can find the right version from the drobo website).
You can download beta 2 of the WHS Drobo Status add-in from here.
Share this WHS Article with Others: