Build 5417 of StableBit DrivePool has just been released.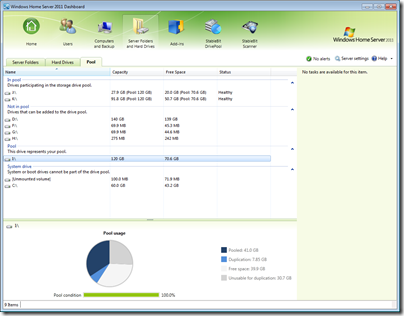 This latest build in beta stage M4 (Milestone 4) includes the following changes:
[D] Fixed directory listing. Sometimes it would incorrectly tell the caller that there are no more files.
[D] Changed disk buffer access one more time to use exception handling instead of relying on WDF.
[D] = Driver was modified (reboot required on update)
Please be aware of the following confirmed issues
If part of a HomeGroup, after a folder move, renaming the folder that was moved will duplicate the share in the HomeGroup.
This is a WHS HomeGroup bug, confirmed with non-pooled folders using standard interface.
Workaround: Leave and re-join the HomeGroup using the Dashboard.
Folder size calculation may drift. This does not affect data reliability and will be fixed in a later build.
Remeasuring fixes this.
Shadow copies are not supported on the pool.
Boxee (and other linux based solutions) might list duplicate folder names.
Making pooled files available offline is not supported at this time.
More information on StableBit DrivePool can be found here.
Share this WHS Article with Others: