The add-in Home Server SMART 2011 has been updated to the 2012 version for WHS 2011 users.
Home Server SMART (HSS) 2012 is the second-generation add-in for SMART disk monitoring for Windows Home Server…HSS consists of two main components, a user interface and a service. The user interface is where you can see the health of your disks, view detailed analysis and configure settings. The service, on the other hand, runs continuously, monitoring your disks at pre-determined intervals (default 10 minutes; you can change this). The service can raise WHS alerts and send email notifications when problems are detected. You do no need to be logged into the server for the service to run.
Features New to HSS 2012
Works with disk pooling software Drive Bender and StableBit DrivePool.

Default setting not only ignores virtual disks, but hides them from the UI (since they have no SMART data anyway).

BitLocker Drive Encryption integration – encrypt, decrypt and manage all of your volumes, whether or not those volumes have a drive letter – you can even enable the BitLocker server role from within the add-in!

Allows you to encrypt drives that participate in drive pools.
Allows you to hide disks that cannot be encrypted, decluttering the UI.
Allows you to make use of an HSS helper service to unlock BitLocker-encrypted USB volumes at boot time when those disks participate in disk pools. This can help ensure the disks are ready for use when the pool is started.

You could ignore individual problems on disks in HSS for WHS v1, but now you can un-ignore (resume) them, either on an individual basis or for all problems on all disks.
You can now ignore entire disks (and resume them as well) – useful for hiding flash drives and media card readers, as well as disks that you know are showing incorrect information (rare, but it's been reported).
Improved the ability to stop, start and restart the HSS service.
Shut down or reboot your server from within the add-in.
Send alerts via email.
Bug Report Helper – runs a small self-test to detect installation problems and provide details to help in troubleshooting.
Don't use, and don't plan to use BitLocker? You can hide the BitLocker tab completely.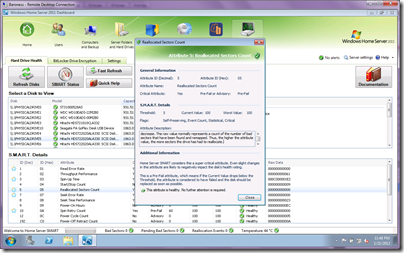 Features in HSS for WHS v1 and HSS 2012
Continuous disk health monitoring by an always-on service.

Monitors health of attributes and will generate alerts when a failure condition (threshold is met or exceeded) is detected.
Monitors disk temperature and airflow temperature, and generates alerts when unacceptable temperatures are detected (airflow temperature is flagged in HSS 2012 only).

Customizeable temperature thresholds for Warm, Hot, Overheated and Critical.
Temperature display can be shown in Celsius (default), Fahrenheit and Kelvin.
Proactive alerting when changes occur on certain "super critical" attributes such as bad sectors, spin retries and end-to-end errors, even if they have not actually "failed."
List of physical disks shows status icons for an "at-a-glance" view of disk health.
Each attribute shows a colored icon in addition to a status message relative to its health.
Double-click any SMART attribute to learn more about that attribute on the selected disk.
Supports most IDE/PATA and SATA controllers that expose SMART data via standard Win32 IOCTL calls or WMI.
Supports most USB and FireWire enclosures that expose SMART data via standard Win32 IOCTL calls.
Allows you to clean up data from "stale" disks — disks you've removed from the server.
Allows you to perform a manual polling of the disks for the latest data, rather than waiting for the service to poll them again.
Available as a pre-release, HSS beta 1 (version 2.2.1.21) can be downloaded from here, whilst heir wiki page can also be found here.
Thanks to the HomeServerShow forums for the update.
Share this WHS Article with Others: