It appears that Hitachi are coming out with an internal 4TB hard drive as part of its Deskstar line of drives.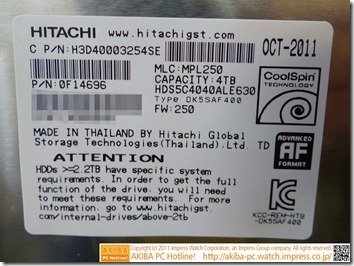 Its the first 4TB HDD and was spotted on the Akiba PC Watch website selling for 26,800 yen (approx. $343). The 0S03361 drive has 32MB of cache, a SATA 6Gbps interface and has Hitachi's CoolSpin technology which automatically controls the rotational speed of the spindle motor to balance power consumption and the noise level. The  4KB sector "Advanced Format" technology has also been adopted.
We are now just waiting for an official announcement from Hitachi, which as yet has not surfaced.
Share this WHS Article with Others: