We have more information and pricing for the Riley Server Processor and Storage units plus a pre-order special for our readers with early orders to be shipped before Christmas.
The Riley Server with the strap line 'be seen, not heard' is very appropriate as both the processor and storage units are completely fan less, and even with four 3.5" HDDs in the storage unit it is almost silent!
Riley is designed as a component based unit – you choose the processor type you want for the application, and then you choose the additional mass storage unit(s) to deliver the capacity you need.
The processor unit (available in 3 configurations) has space for 2 x 2.5" hard drives. One to host the WHS OS and the other for the WHS2011 backup drive, protecting the whole of the 1st drive.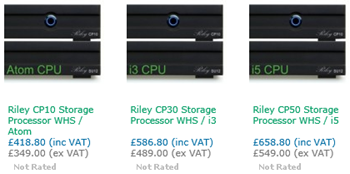 With the processor unit connecting to the storage unit via a single eSATA cable this allows for an exceptional data throughout delivering 92MB/s read and 136MB/s write.
The storage unit comes setup for RAID-5 and allows up to 4 hard drives to be fitted, and if you run out of room you can also add one or more expansion units.
We have a coupon code for you whereby if you order ANY Riley CP** Processor unit with ANY Riley SU** Storage unit you can save £99 + VAT:
N114R5Y0UPZ
Please note the SU12 12TB unit will not be shipping for some time (and can't be ordered)
All other units will start shipping from the 15th December on a first come first served basis
All units can be pre-ordered from today, and will be delivered pre-Christmas
To learn more visit: http://www.tranquilpcshop.co.uk/riley-series/
Share this WHS Article with Others: