On their blog the FlexRAID team have written why its software is ideal as a Drive Pool and RAID solution for WHS 2011:
FlexRAID provides the cleanest integration into WHS 2011 out of all solutions out there.
FlexRAID requires no plugin and presents its Storage Pool drive as a native NTFS drive to WHS 2011.
This means you can add and manage a FlexRAID pool drive just like a regular but massive drive in WHS 2011′s dashboard.
FlexRAID turns hard drives of various sizes, makes, and models into storage pools and additionally can provide both snapshot and real-time parity data protection with support for RAID4 RAID6 and others and so can be the ideal solution for those of you looking for Drive Extender type features for your WHS 2011 box.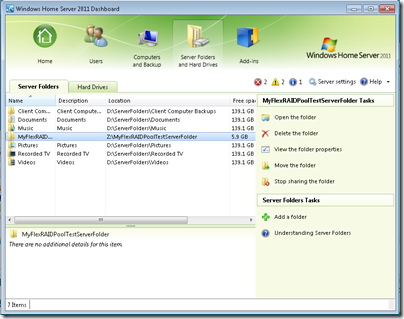 More information on why WHS 2011 and FlexRAID is a good combination is available here.
Thanks to WeGotServed for the heads up on this story.
Share this WHS Article with Others: