We mentioned the ISO Mounter add-in for WHS last week and now the good news is that version 1.10 is officially available.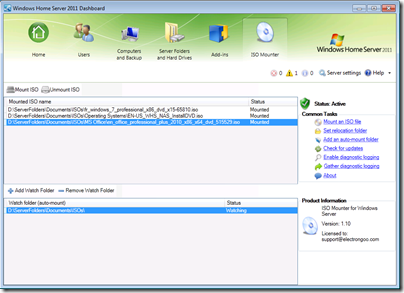 ISO Mounter is a new add-in for both Windows Home Server v1 and 2011 users.
 
The software allows WHS users to mount (both manually and automatically) ISO images (CD and DVD image files) on their server to expose the ISO image as a regular folder (any file within the iso image is directly assessable directly through the server share).  This makes it easy to install software downloaded in iso format directly from the server on all of your PC. Mac, and Linux clients without installing ISO mounting software on each client.
Version 1.10 added the following new feature:
Added "relocatable folder" option (WHS/SBS 2011 only) to display all mounted ISO images in a single shared folder
ISO Mounter is available for $14.99. More information is available here.
Share this WHS Article with Others: