Recorded on August the 24th was the webinar "Windows Small Business Server Essentials has arrived!"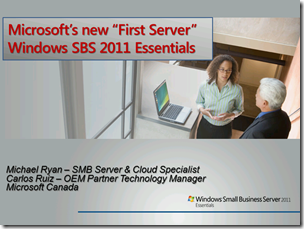 Presented by Michael Tyan and Carlos Ruiz from Microsoft Canada this 59 minute presentation looks at the following:
What is Small Business Server 2011 Essentials and how is it different from the more traditional Small Business Server 2011 Standard?
Demo: Managing Small Business Server 2011 Essentials.
Demo: Understanding extensibility: "add in's", "add on's", and the cloud.
Hardware Requirements.
And since Windows SBS 2011 Essentials is very similar to WHS 2011 it is well worth a watch on demand.
Share this WHS Article with Others: