Many of you are using online backup provider CrashPlan to backup your Windows Home server data online and although not Home server specific, the company have just announced free apps for iOS and Android for CrashPlan+ or Pro subscribers.
The apps allow you to access you've backed up data, allowing you to browse through your files and download them to your iPad, iPhone, iPod Touch or Android device or share them via email.
The CrashPlan apps for iOS have built-in viewers for common documents like Word, Excel, PowerPoint, JPG, TIFF, mp3 and more; while on Android your files will open directly with your favorite apps that you already installed on your device. And if your device has compatible apps installed, you can open the files in those apps as well.
The one-touch update feature, will let you know when your backup archive contains a newer version of any file(s) you've retrieved, and lets you update them with one tap. You'll never have to wonder if you've got the latest version on your device.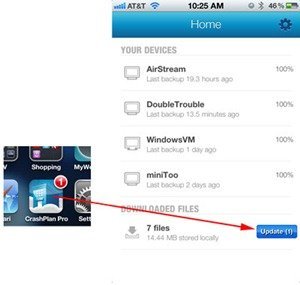 More details are available in the CrashPlan Mobile App FAQ whilst the CrashPlan apps are available on the iTunes App Store and the Android Market.
Share this WHS Article with Others: