Tranquil PC will soon be creating PCs and exclusive servers for domestic, commercial, embedded and industrial markets and these rather nice systems will be like…think black Apples!
One of these new machines is just 34mm high, made from a single block of aluminum and fan less and this sample unit has an mSATA internal 80GB HDD that plugs directly into the main board, and being solid state is again silent.
"…we can reveal that the product will happily cool an i3-2100T or i5-2390T CPU, even in a long term 100% CPU load test!"

One of Tranquil PCs Super Slim PC carved from a single piece of material.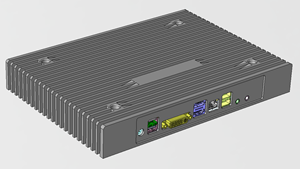 This example outline design for a Tranquil PC embedded system sports ZERO noise, ZERO moving parts, LOW (35mm) profile with numerous mounting options.  This version can be powered by Intel i3/i5 or even i7 processors (-S series, not the 'mobile versions).
The first machines should become available during mid to late September
Share this WHS Article with Others: