Since we first looked at the add-in  back in May it has had many updates.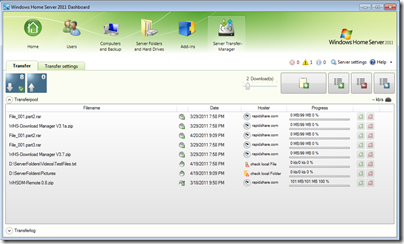 The add-in Server Transfer-Manager enables you to make your Home Server the central transfer station for all your up and download needs. And since we last looked at it back in May it has had numerous updates, including:
New Filehosts added: uploaded.to, fileserve.com, depositfiles.com and netload.in
Filehost support extended to free Download for both Rapidshare and fileserve.com
DLC File decryption feature added, activation of the new scheduler and extract password protected files
Linkchecker Bug solved for netload.in
fileserve.com made some changes, so for now there is no support for fileserve.com
rapidshare.com support extended to Upload
New GUI added with a remote folder structure
And finally the latest build 0.5.721 from 1st August includes the following 2 changes:
Bugfixes to the Dashboard.
Refresh improvement in the Dashboard, the new Service-Down Status and the Transfer Speed Indicator.
More details on Server Transfer-Manager are available from here.
Share this WHS Article with Others: