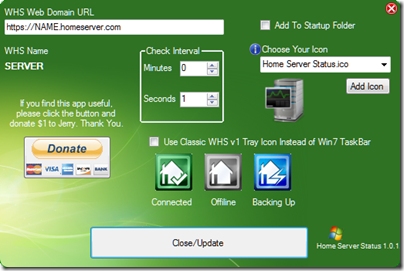 The add-in Home Server Status has had a minor update to version 1.01.
This update includes the following changes:
Added a better routine for notifications of when a backup is running, completed, and cancelled.
Added status messages to the taskbar icon. When you mouse-over, you get the thumbnail view but with status and a backup button that takes you directly to the backup properties dialog.
At user's request, added the ability to double-click the tray icon and go to the dashboard when using classic tray icons.
There are 2 different ways to install this update:
1. If one plans to use the installer then they must first UNINSTALL PREVIOUS and then run setup.exe
Full install download link: http://db.tt/wNeO0SS
or
2. Simply replace your existing .exe file in the Win7-32bit C:\Program Files\Home Server Status or Win7-64bit C:\Program Files (x86)\Home Server Status folder.
EXE download link: http://db.tt/rdow9lT
Share this WHS Article with Others: