Transfer-Manager is an add-in for WHS2011 which enables you to make your Home Server the central transfer station for all your up and download needs.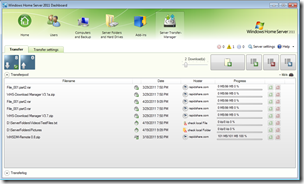 The add-in is currently in beta and a new build is released every Sunday with new bug fixes and new functions.
Build 0.5.410 from the 8th May adds the following new features:
New: Filehoster filesonic.com (Download)
New: File Option (Download: all Files,only new Files) explanation follows in the Guide
The zip file can be downloaded directly from here and a PDF user guide is also available in English and German.
Share this WHS Article with Others: