Snoop-de-dupe the add-in which scans your Home server for duplicate files has had an update.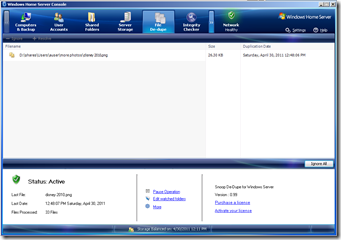 Version 1.20 includes the following additions:
Added support for Windows Home Server 2011 and Windows Small Business Server 2011
Added CPU usage throttling
Added hard disk write access limiting
Added worker thread prioritizing
Added support for hard-links (WHS/SBS 2011 only)
Installer now signed with class-3 Authenticode certificate
Minor bug fixes
Available for both v1 and WHS2011 users, Snoop-de-dupe is available as a 15 day trial after which it costs $11.99.
This latest release can be downloaded from here.
Share this WHS Article with Others: