Beta 3 of Drive Bender, the Drive Extender replacement, has just been released.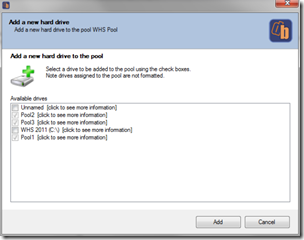 This release includes full server folder support including client backups. Here's the full change list for version 1.1.3.3:
Much improved file read performance.
Windows based network shared (i.e. shares creating on folders contained within a drive letter mount point) as now restored correctly upon reboot.
Drive letter mounted pools now show up and work correctly within the WHS "Server Folders and Hard Drives" tab.
WHS server folders can now be created on a drive letter mounted pool.
Drive letter mount points now support WHS client backups.
Drive letter mounted pools now have full recycle bin support.
Applying and removing duplication can now cascade to child folders.
Improved file / folder renaming.
Bug fix: Renaming a folder twice could cause the rename to fail if the name was previously used.
Bug fix: Removing a duplicated folder was not working correctly in the WHS adding.
Bug fix: Renaming a file could cause a duplication file to be created.
Bug fix: Fixed recycle bin corruption bug.
Bug fix: Adding drive was causing an error in v1.1.3.2
Many other bug fixes and enhancements.
Make sure you have a read the tutorial on integrating into WHS 2011 which is in the walk through PDF which is installed during installation.
You can download this release from here.
Share this WHS Article with Others: