This week courtesy of online backup provider KeepVault, we will be giving away a copy of KeepVault Pro Version 4 everyday Monday through to Friday.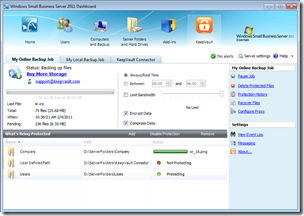 Via their add-in, KeepVault enables you backup your Home Server to the cloud as well as locally, offering secure real-time protection that grows along with your servers needs.
Each 40GB Pro version which we have up for grabs is valued at $163, that's a total prize fund worth in excess of $800. So for your chance to win todays copy we have the following question for you:
KeepVault provides high speed uploads of up to 2Mbit per second, but KeepVault Pro provides an even higher ultra speed upload of up to ?Mbit per second. What is that speed?
Answers to competition@mswhs.com One winner will be chosen out of all the correct entries received – Good Luck!
HINT: More details on KeepVault are available from here.
UPDATE: Day 1 of the KeepVault Giveaway competition is now closed.
Share this WHS Article with Others: