Integrity Checker is a new add-in which Watches for new data on your Home Server and generates integrity hash stamps which can be used later to guarantee the integrity of the data stored on your server.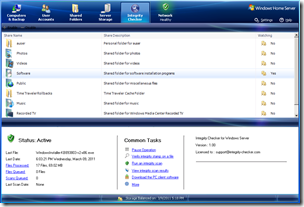 Available for both WHS v1 and WHS2011 (and Windows Small Business Server 2011), Integrity Checker provides the following features:
Supports Windows Home Server (original and 2011) 
Supports Windows Small Business Server 2011 Essentials  
160-bit SHA-1 hash stamping for optimum integrity 
Automatic, real-time continuous integrity generation 
Run an integrity scan any time you choose  
Compare checksums of large downloads quickly and efficiently 
Includes PC Client (Windows XP, Vista, 7) for easy checksum comparison on all your PC's
User selectable Shares 
Easy to navigate Server add-in runs directly in the Server Console or Dashboard
A full-featured free trial is available (limited to 2,000 integrity stamps).  A license for the full version is $9.99
Integrity Checker runs as a service on your server watching your shares that you have selected for new and changed files. Whenever a file without a integrity stamp is located, it will be queued and automatically processed by the add-in. This process will be completed with no interaction on your part.
An integrity stamp is comprised of three separate pieces of information: file modification date, file size, and the SHA-1 hash of the file data, the integrity stamp information is then written to each file as an Alternate Data Stream (ADS). This Integrity stamp information will remain attached to the file when you copy the file to other servers and PC's. (Note, some applications may delete the ADS when they write to an existing file. If the file remains in a folder watched by Integrity Checker then the integrity stamp will automatically be regenerated when the file is changed).
You can find more details on Integrity Checker from here.
Share this WHS Article with Others: