Keen amateur photographer and Microsoft employee Sean Daniel tells us why he shall be using the new Windows Home Server 2011.
Sean tells us that removing DE was a very tough decision, but why he agrees with its removal given what he knows (and he should know more than all of us since he works on the team at Microsoft) and then takes us through the various features including remote access and why it is so awesome:
The ability to download or the ability to move files around without having to download.  Yes, that's right, delete, copy, cut and paste things all over the shared folders without actually having to download it.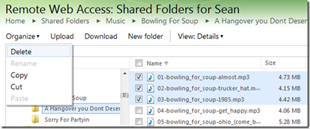 He then explains the remote Silverlight video streaming feature and why his data is safe on WHS 2011:
…I feel like Windows Home Server 2011 is the right product for me, for simplified access to my data. Simplified Management of my network, and extremely safe data protection plans.  Moreover, because it's Windows, it just works with other things in my house. 
I liked Drive Extender too, but the product isn't dead, in fact, it's still awesome!
You can read Sean's full article here.
Share this WHS Article with Others: