Today sees the availability of the RC (Release Candidate) of Windows Home Server Vail and the final name of the product has been released too. Drum roll please:
"Windows Home Server 2011"
With Windows Home Server 2011 RC now being available, it means that RTM (Release To Manufacture) is not to far away, and we all should be getting our grubby hands on the final release version very soon.
This RC release is the first publicly released version to include changes in the storage features due to the removal of DE (Drive Extender) and now includes:
A new Move Folder Wizard which makes it easy for you to move data from one drive to another.  As you add Hard Drives to the Home Server, health alerts will notify you that a new Hard Drive is available. From here, you can automatically format and configure the new drive for additional storage and then easily use the Move Folder Wizard to move your data to the new drive as needed.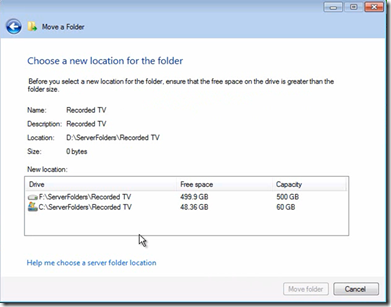 As you can see in this WHS2011 Learning Bite Video:
Data protection also includes daily Server and PC backup, Previous Versions via Shadow copy which lets you return prior versions of existing files (without needing to restore from backup), and a protection feature for pre-defined folders (such as Recorded TV, Videos, Photos) in case these are accidently deleted.
So head on over to the Windows Home Server site on Microsoft's Connect beta site for a copy of the RC download.
Share this WHS Article with Others: