On the 10th January the beta version of Vail will expire making the server unavailable or making it shutdown every hour. Since there is no workaround for this it is important that you move any data which you wish to save off of your Vail server before Jan 10th.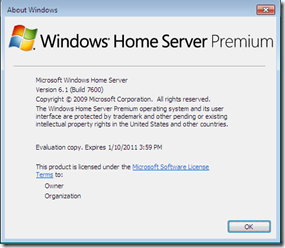 A new build of Vail will be available in 4 to 6 weeks to enable you to continue to beta test Windows Home Server "Vail"
There is a forum post dedicated to this on the official Microsoft Windows Home Server Forums.
Share this WHS Article with Others: