Microsoft's OEM training website has a zipped video on "Vail" available for download.
The title may be a handful, but Windows Home Server Code Name "Vail": Product and OPK Deep Dive​, is worth a watch. Here is how the OEM site describes the video:
View demonstrations of new functionality in the preview version of Windows Home Server "Vail". See how to use the OPK tools to build and customize installation of the WHS "Vail" operating system on the systems that you build.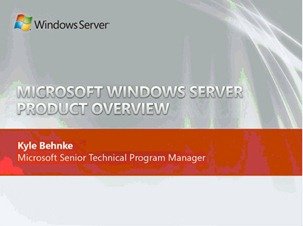 Presented by Micheal Leworthy, Microsoft Senior Technical Product Manager. The "Vail" material starts 10 minutes in and lasts approx. 45 minutes.
More information is available from here whilst here is the direct Zipped download link
Share this WHS Article with Others: