MVP Nigel Wilks has posted a guide at MediaSmartServer.net on how to correct some bugs that are present in the 3.0 software for the HP MediaSmart Server and the Data Vault.
Nigel explains how to fix the missing "HP MediaSmart Server Home Page" icon.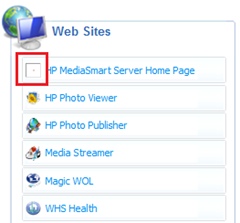 As well as fixing a typo in one of the help files by creating a patch using the Windows Installer XML (WiX) toolset.
You can read the full guide which is available here.
Share this WHS Article with Others: