SumitB the teh pretendeR! posted the following on the Erodov forums:
I am not sure how many members have used or are using Windows Home Server on ??. I adopted WHS a couple of years back and the feature which made me adopt it was Drive Extender which basically allowed a user to simply plug in a new drive and add it to the storage pool when you run out of space. No drive letters, no nothing. This was a boon with NAS and I grew my storage from about 2TB to 10TB in less than no time. This makes it very easy for media streaming when your library is shown as one and you don't have multiple drives to explore when browsing through your media. However, something bit MS and they have now decided to discontinue DE in the upcoming upgrade to WHS currently codenamed Vail. According to MS, DE was not compatible with drives above 2TB which is why they have decided to do away with DE.

Now, I am in the process of getting myself a server chassis with 24 Hot Swap HDD Bays and other server grade components to give my media a permanent and scalable home. I decided on the components and before I was ready to get them, I had to find an alternative to WHS's DE and came across FlexRAID. Basically this with its FlexRAID View is the answer to WHS's DE. Some are also claiming that FlexRAID is better than the original DE as it protects your data and not drives. The best part about FlexRAID is that you don't need a RAID array for it to work and its compatible with Windows and Linux. For example, if like me, you have 4 2TB drives in your system and have your movies and songs all over the 4 drives. When you browse your files, you will have to go through multiple drives and multiple directories. However, with FlexRAID installed and FlexRAID View configured and running, you can have a single Virtual Folder called Movies and all your movies from the 4 drives, will be accessible as one! Ditto for your Music and Photos. I have been trying this for the past few days and found no issues. No data loss, no corruption and I am not running any RAID. This was tried on a desktop machine running Windows 7 x64. One other feature of FlexRAID which I have not yet tried is that you can also combine a Network Share as a Spanned Drive. Its flexible to the core. You need to go through the forums of FlexRAID for the tutorials and examples. The possibility is endless.

I am now going to order the components for my server and will install Windows Server 2008 R2 and FlexRAID and hope to have a permanent solution to my always expanding data.
And unlike the Drive Extender v2 version which was to be, the FlexRAID data can also be directly readable and accessible in another operating system where FlexRAID is not installed, now that's even better news.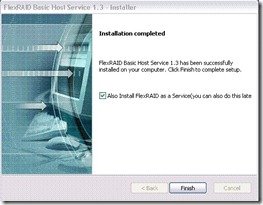 But that's not all, FlexRAID provides the following features:
Ability to combine all your drives and present them as a single massive drive (JBOD like but much safer than standard JBOD)
Independent from the RAID features of FlexRAID (you can use FlexRAID-View without RAID'ing your data)
Automatic data management (write to your storage pool without worrying about which drive has the free space or to which drive the data is being written to)
Supports drives with existing data (no need to copy off your data)
The drives that make up the view are independently readable outside of FlexRAID-View (you can remove FlexRAID-View and still have access to your data)
Sleep Mode – The drives that make up the view can be spun down and drives not being accessed can remain spun down (For this to work properly, all folders at the root of your FlexRAID-View must be virtual folders)
Support for Virtual Views:
What are Virtual Views?
Ever wanted to organize your data in various views without the need of actually moving the data around or create hardlinks or shortcuts?
How about showing your music files based on the files tag attributes?
A "Year" folder that shows all the songs in your collection in one folder based on the year specified or an "Artist" folder that shows all the songs a given artist either performed or was featured on in one folder?
How about showing all the files that were modified during a date range in one folder?
How about combining one folder with the contents of a number of other folders and showing some additional folders and files as children to create a custom view of your data?
Virtual folders also support full Windows permission and ACL.
All that without messing with links (which clutter your filesystem) or moving your data around?
Basically, Flexibility.
FlexRAID will also work with drives that have been assigned as NTFS folders instead of drive letters and with network shares.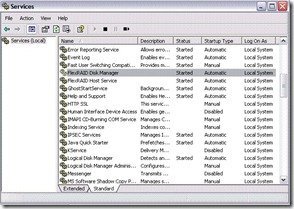 The developer of FlexRAID had the following to say:
I have done all the dangerous testing for you. Frankly, there is very little worry as far as your data safety, and it is pretty much fail-safe. It will never corrupt your data… ever! I wrote it at the kernel and native level, in fact, the OS is the one doing all the real I/O operations.
FlexRAID-View only steps in to do some orchestration.
It seems FlexRAID will be an ideal solution for Windows Home Server Vail users. More information is available from here, whilst installation instructions are also available from here and here.
Share this WHS Article with Others: