Microsoft have today announced that Windows Home Server Vail will no longer have the Drive Extender (DE) technology within it which is currently in the Vail beta as well as WHS Version 1.
DE was the technology with the reliability and benefits of RAID which provided the following three capabilities:
Selectable multi-disk redundancy in the form of "drive duplication"  so if one disk failed, data was not lost.
The ability to add hard drives of different types (ATA, SATA USB etc) in any mixture and size to the "storage pool".
A single folder namespace without the need for drive letters.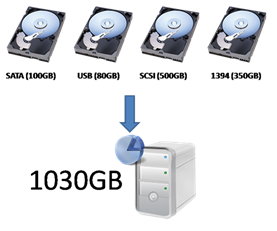 Microsoft have come to this decision due to the fact that larger hard drives have become available (2, 3 and 4TB) and that smaller hard drives are becoming less common.
Looking forward without DE, hard drives will now be able to be copied onto another computer, if the need arises due to a Home Server failure etc (ability to read DE drives in non-DE machines). Drive letters will be back in "My Computer" and application compatibility is increased with Drive Extender's removal. BUT what about drive duplication?
Microsoft are hoping that disk duplicating methods will be developed by third party's and that cloud based add-ins will be utilized. And off course users can use FlexRaid or similar tools for their data protection needs.
This announcement also applies to the other products within the Colorado family:
Breckenridge – Windows Storage Server 2008 R2 Essentials
Aurora – Small Business Server 2011 Essentials
What do you think of the decision of Microsoft to remove the Drive Extender technology from future versions?
Share this WHS Article with Others: