Tentacle Software have a new add-in called Blackbox for Windows Home Server.
The add-in provides in-depth real-time monitoring from your motherboard, disk, UPS, and graphics card hardware sensors and allows administrators to define alerting rules to take actions when a sensor exceeds a specified threshold.
Key Features include:
Real-time monitoring of supported hardware sensors
Administrator-defined rules to perform actions based on sensor states, including:
Log the alert to a file
Log the alert to the Event Log
Create a Windows Home Server health notification (that appears in the server health status window)
Set a fan speed
Change the system power state (shut down, suspend, hibernate, or restart)
PWM fan control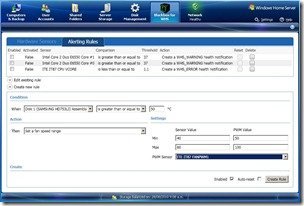 Blackbox for Windows Home Server is currently in beta but if you would like to help contribute by helping to beta test then email Tentacle Software including  the specs of your server.
Share this WHS Article with Others: