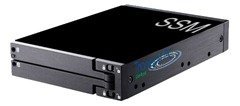 I have to confess to being a little puzzled when I was first handed the Tranquil Safe Server Module. From the brief I was given, I had assumed it was some sort of backup device to keep server data safe, used like an external hard disk.
But no, after visiting Tranquil PC product page for the Safe Server Module (SSM), I fully understood what this device is and what it is supposed to do. What we have here is a replacement system hard disk, one with dual 500gb hard disks, configured in a RAID 1 mirror, in the shape and size of a single SATA hard disk. Total WHS system disk protection.
Hardware
Although primarily intended for Tranquil PC's SQA-5H range of servers, in reality the SSM should fit in all shapes and sizes of home servers and will protect them all equally. The SSM body is constructed from a brushed metal alloy, with plastic front and rear and feels strong and robust in the hand.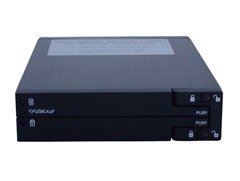 Up front are the drive bay doors and a couple of status lights. Accidental opening of the doors is prevented by the use of locking switches. The status lights normally blink green but will change to red in the event of a problem with a drive. If you have the SSM mounted out of sight inside a server, management software is supplied supplied to let you know what is going on.
The Tranquil PC SSM is based on the Silicon Image SiI5744 chip set, which in addition to the standard 3Gbps SATA port also provides access to the storage via a USB 2.0 connection. Although USB isn't going to be much use in its intended day-job as a system disk replacement, Tranquil PC have conveniently left the USB 2.0 connection available so the SSM can also function as a USB hard disk. Used in this way, the SSM gets its power via USB and needs no other connections.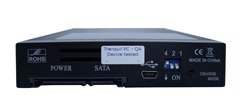 Around the back you see the USB 2.0 connector, SATA port, power and some DIP switches. The manual doesn't cover the use of these switches, and when Tranquil PC support were asked what they were for, I was told they set the RAID function and it was best not to touch them. So I didn't.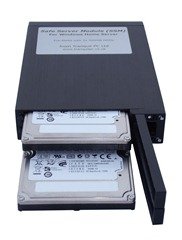 Access to the two 500gb disks is easily achieved by sliding the unlocking switch, and pushing the door open. The action of opening the door pulls the disk out of the drive bay. They are both Samsung drives if anybody is interested.
In Use
As it shares the same dimensions as a normal hard disk, physical installation of the SSM is as straightforward as installing any regular hard disk. The power and SATA connections are in the standard place so the SSM can be used in caddies, cradles or cases, and as it presents itself as an normal SATA disk there are no driver issues either.
One hurdle to using the SSM is the little matter of rebuilding your server. For servers with sufficient space and hard disks, you will need to enable folder duplication and rebuild your server with the SSM as its new system disk. The supplied instructions let you know how to do this for a SQA-5H, and you should follow the manufacturer instructions for you own particular server hardware, but please remember not to do a factory reset if you want to keep your existing data.

With the server rebuilt and the SSM in place, everything performed as normal. The SSM gave a good account for itself and was every bit as quick in performance as the hard disk it replaced. A bonus of using the SSM in a previously single disk server is that you now have a free hard disk to add back into the storage pool letting you to enable folder duplication.
The SSM comes with a management tool which gives basic information about the RAID 1 array and any issues it might have. This is particularly useful if you are installing the SSM into a chassis like the ASUS TS mini that does not allow you to see its front status lights.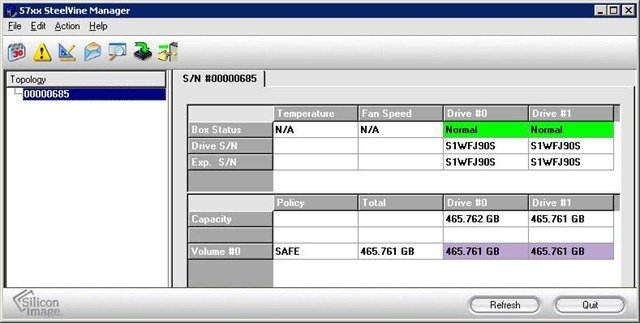 In normal operation, everything is safe and happy.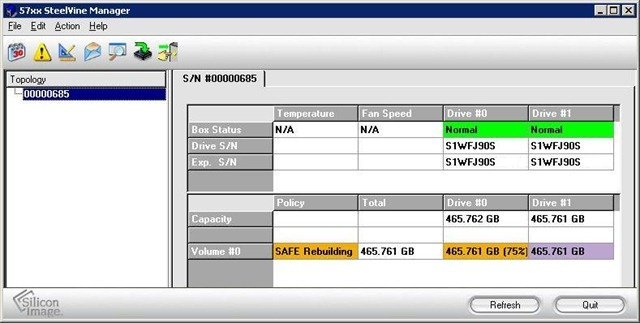 But if you ever need to replace a drive,  the array will automatically rebuild in the background while leaving the remaining drive available. This means you can get your server up and running quickly following on from a disk replacement, which is really the point of this device; resilience.
Verdict
This really is a very clever and impressive little device, directly addressing the inherent weakness of Windows Home Server system drive resilience.
In a single step, you add the reassurance of full system disk mirroring to a home server that wouldn't previously be capable of RAID, giving you total protection from single hard disk failure.
Installation is as easy as installing a new hard disk and a system rebuild is really a small price to pay for this extra peace of mind.
Oh yes, and you also get a free copy of the AVA Media CD ripper as a little bonus.
Tranquil PC Safe Server Module web page
Share this WHS Article with Others: