We last bought the add-in Poca-WHS to your attention back in March when it was in the works of being produced. The good news is that it is now available as a open beta, which is both functional and stable.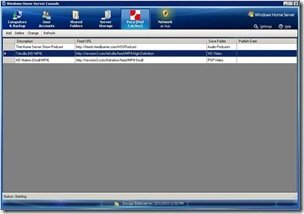 The add-in is a pod catcher which runs on Windows Home Server, without needing a user to be logged in to the server all the time. Once installed  you go to the settings screen and configure one or more folders that the downloaded pod casts will be saved in. Once these folders are configured you then go to the main screen and setup the RSS Feeds.
Version 0.6.10.0331 can be downloaded from here.
Thanks to the Home Server Show website for the heads up.
Share this WHS Article with Others: