The add-in Add-in Central has been released ahead of time as a public beta.
The software (and service attached to it) is designed to help you discover and track useful add-ins right from within the Windows Home Server as well as notifying you when updates to your installed add-ins are available. This is accomplished via its its "Live Tracking" feature.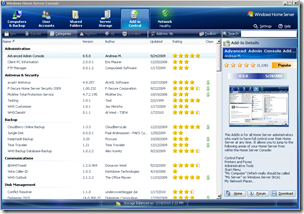 Enhance your Windows Home Server experience by browsing for add-ins by category, keyword, or even by community rated popularity. Useful summaries, screenshots, and documentation links are provided to help guide your search. Once you've located an add-in that looks interesting, Add-in Central can automatically download it to your home server and help you along with a hassle-free installation process.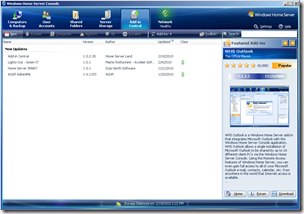 Add-In Central Features:
Notifications of new updates for Windows Home Server Add-Ins
One Click upgrades that will provide a simple and fast way to upgrade your current Add-Ins
Browse, find information with screenshots, and download Add-Ins directly from your Windows Home Server console
View Add-Ins by popularity, category, or find the latest ones to hit the market
Direct links to support forums which help improve communication and provide direct troubleshooting support
Screenshots and descriptions help you make the right choice when downloading new Add-Ins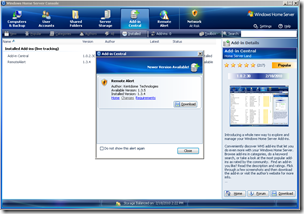 More details are available from here.
Share this WHS Article with Others: