"The Mother of All Add-Ins" might finally not be too far away, and what add-in may this be I here you cry, laugh, scream?
That would be "Add-In Central", which is the first and only centralized add-in manager that allows you to browse, download and update add-ins conveniently and automatically through your Windows Home Server Console.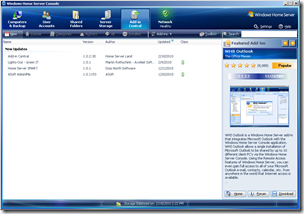 I have had the pleasure to have used the add-in for the last 2 months and it is both fast and simple, and provides you with the information you need when determining which add-ins are right for you.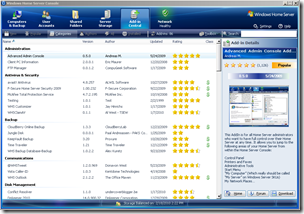 Here's the features of Add-In Central:
Notifications of new updates for Windows Home Server Add-Ins
One Click upgrades that will provide a simple and fast way to upgrade your current Add-Ins
Browse, find information with screenshots, and download Add-Ins directly from your Windows Home Server console
View Add-Ins by popularity, category, or find the latest ones to hit the market
Direct links to support forums which help improve communication and provide direct troubleshooting support
Screenshots and descriptions help you make the right choice when downloading new Add-Ins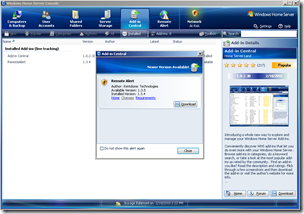 More details on availability will be available soon as the add-in is nearing its final beta. In the meantime more information is available from here.
Share this WHS Article with Others: