The Disk Management add-in from fellow MVP Sam Wood is designed for users who need more detail about their server's storage status than what the standard Server Storage interface provides. It's also the 1st add-in I install on a Windows Home Server box and the good news is that a new version is finally available with lots of new features.
The add-in has been entirely re-architected to use a Windows Service to do all the back-end heavy lifting, with no more pop-up windows to see detailed information about your disks, it's all there in one display.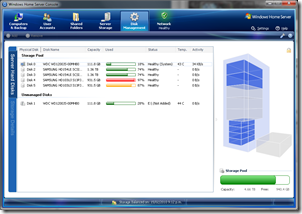 New Features in Version 1.1:
Significantly improved user interface (including a collapsible pane for the wireframe if you don't use it)
Significantly improved performance, especially on multi-core CPUs
Charts for disk space statistics
Charts for disk space utilization over time
Disk statistics logging to a file
More disk details, including the NTFS mount point for each disk
Real counting of the actual backup database size (for all you crazy kids with backup duplication enabled)
A detailed help file
Changes to version 1.1.2.1997:
Fixed help link in Settings
Added pre-install check to make sure previous versions have been uninstalled
As well as these new features Sam Wood's company website, "Tentacle Software" has also had a major facelift. With a new style, and a new store.
The other major change is that Disk Management will no longer be free, but instead  moving to a paid model, which will help ensure that Disk Management is supported and maintained in the future. A free 30-day trial, with no feature or functionality limitations is available, to help you decide if the new improved add-in is for you.  If so, then a license for v1.x will cost you just US$10 per home server, which is not too bad at all.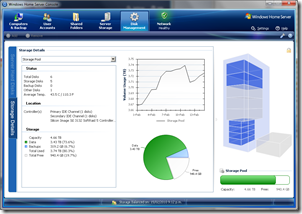 Tentacle Software stated that Disk Management 1.1 is the start of something special, and that they have got plans for all sorts of goodies for Windows Home Server users which they are sure that you will love.
You can download version 1.1.2.1997 from here.
Share this WHS Article with Others: