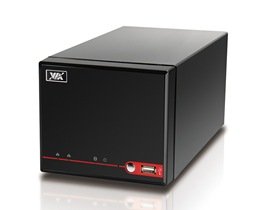 Similar in looks to their Artigo A2000, Via have announced the M'SERV S2100, a mini low power 64-bit server which is an ideal home for Windows Home Server.
Measuring just 13.5cm by 12cm by 26cm (5.3" x 4.7" x 10.2"), the VIA M'SERV S2100 is powered by a 1.3+GHz VIA Nano processor and supports 2 slots of DDR2 memory. Two SATA bays with integrated power ports are mounted within the case, and a type I Compact Flash socket can be used as a bootable SSD for embedded OS for installing a slimmed-down version of WHS.
Connectivity includes dual Gigabit Ethernet ports while two USB 2.0 ports at the back are supplemented by one port at the front allowing for storage expandability.
No software is supplied, this is hardware only, but it would make a good choice for home builders wishing to build a small low power Windows home Server.
The unit is available now for system integrators and OEMs and will be available from some online retailers shortly with a price to be announced.
More details from Via here.
Share this WHS Article with Others: