British based Tranquil PC have launched series 2 of it's SQA-5H Home Server.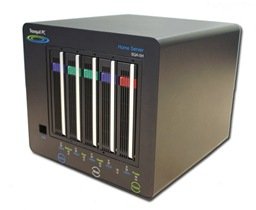 The SQUASH V2 features a higher performing dual core CPU and comes with 2GB RAM, with the entry level model coming with a 500GB hard drive all the way through to an advanced unit housing a 2TB Green Power hard drive.
Here's the press release:
Tranquil PC – Manchester UK

7th January 2010

Home Server Powered by latest Intel D510 CPU

Tranquil PC are pleased to announced the immediate availability of the SQA-5H Series 2 Home Servers.
The established 5x HDD Home Server systems are powered by the latest D510 CPUs from Intel.  This latest CPU is a two chip solution (The D510 – CPU/GFX and the NM10 – I/O) – compared to the previous regular 3 chip solution.  This new CPU + controller has a total TDP of 15W – over 50% power saving when compared to the original systems.

Running the very latest builds of Windows Home Server (PP3) from Microsoft and the AVA Media Add In, the SQA-5H are ideal not only for Home Server duties, but as a tool for automatically creating and centralising your Home Media

The SQA-5H Series 2 systems are now available – and are shipping at the same prices as the original SQA-5H Home Servers
More details from Tranquil PC.
Share this WHS Article with Others: